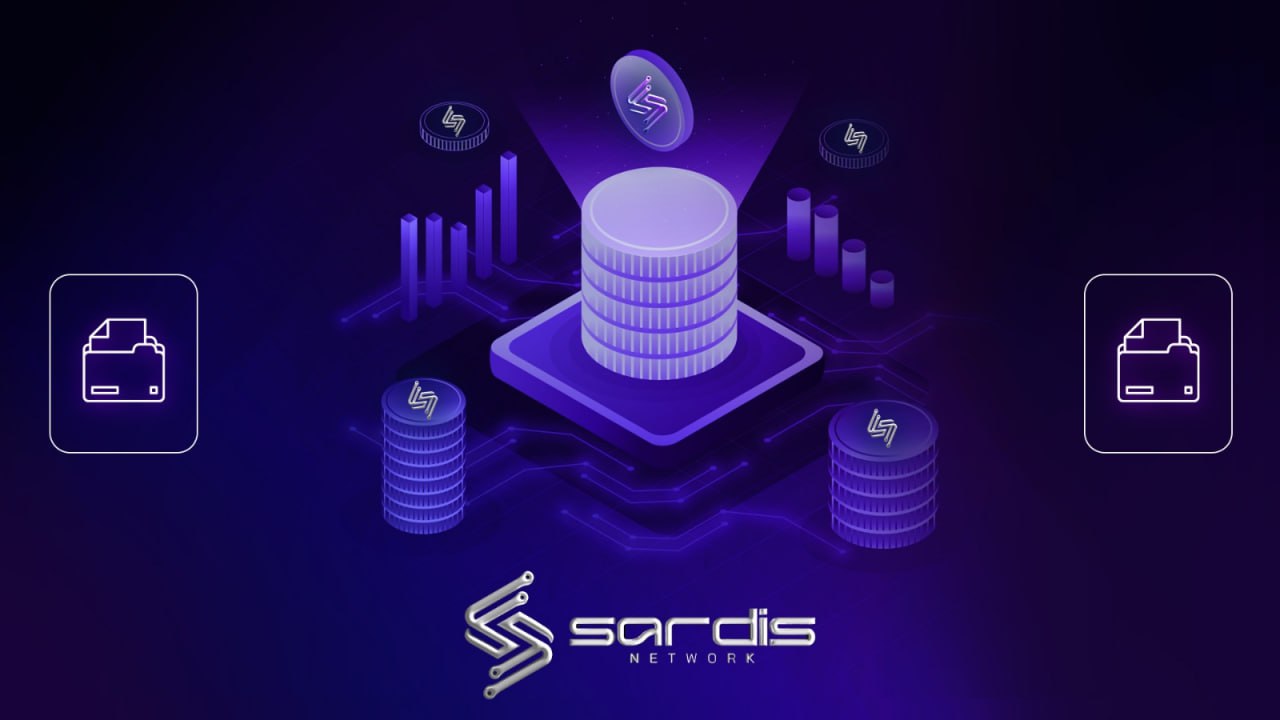 Introduction​
The Sardis Network stake system plays a crucial role in the network's consensus mechanism and governance structure. By staking their native tokens, users actively participate in the security and decision-making processes of the network. The stake system is designed to incentivize long-term participation, aligning the interests of stakeholders with the overall health and growth of the Sardis Network.
Near-zero fees​
Save on costs! Sardis Staking Platform operates on the Sardis Payment Chain, offering significantly reduced transaction fees compared to Ethereum, Bitcoin, Solana, and Binance Smart Chain. Moreover, its staking fees are lower than those of other leading staking platforms, providing you with a double advantage in terms of savings.
Completely Decentralized​
Stake&Earn directly through your web browser. Unlike centralized platforms such as Binance or Coinbase, Sardis Staking allows you to stake without holding your funds, ensuring you retain complete cryptocurrency ownership.
Staking Calculations​
The calculations are as follows: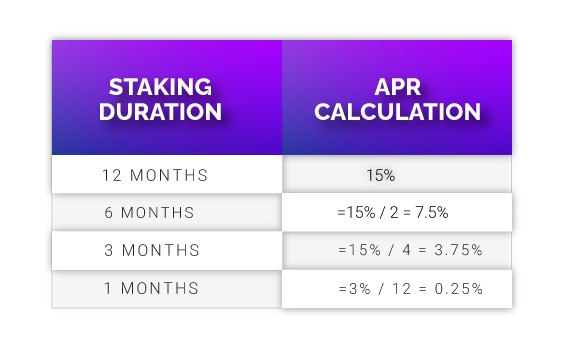 Penalties and Conditions​
Early Unstaking Penalty: Users who unstake their tokens before the agreed-upon period are subject to a penalty fee of 15% of the staked tokens.
Completion of Staking Period: Users who complete the full staking period and unstake their tokens after the agreed-upon duration will receive their tokens without any fees or penalties.
Grace Period​
After completing the staking process on the Sardis Network, users will enter into a grace period lasting 12 hours from the time of their initial staking. During this grace period, stakers have the flexibility to withdraw their staked tokens without incurring any penalties. This period allows users to adjust their staked positions as needed, while still promoting network stability and ensuring the security of the staking process.
Staking beyond SRDS​
Presently, the staking functionality is accessible for SRDS tokens. However, in the future, the staking platform will be extended to accommodate tokens that have been specifically whitelisted for participation on the Sardis Payment mainnet. This expansion will provide users with the opportunity to stake various tokens beyond SRDS, thereby broadening the scope of staking options available on the Sardis Blockchain ecosystem.
Step-by-Step Guide for Sardis Stake​
Making a stake in the Sardis Ecosystem is an easy task. Here's how to do it:
Head over to stakedex.sardisnetwork.com and connect your wallet at the right corner of the website.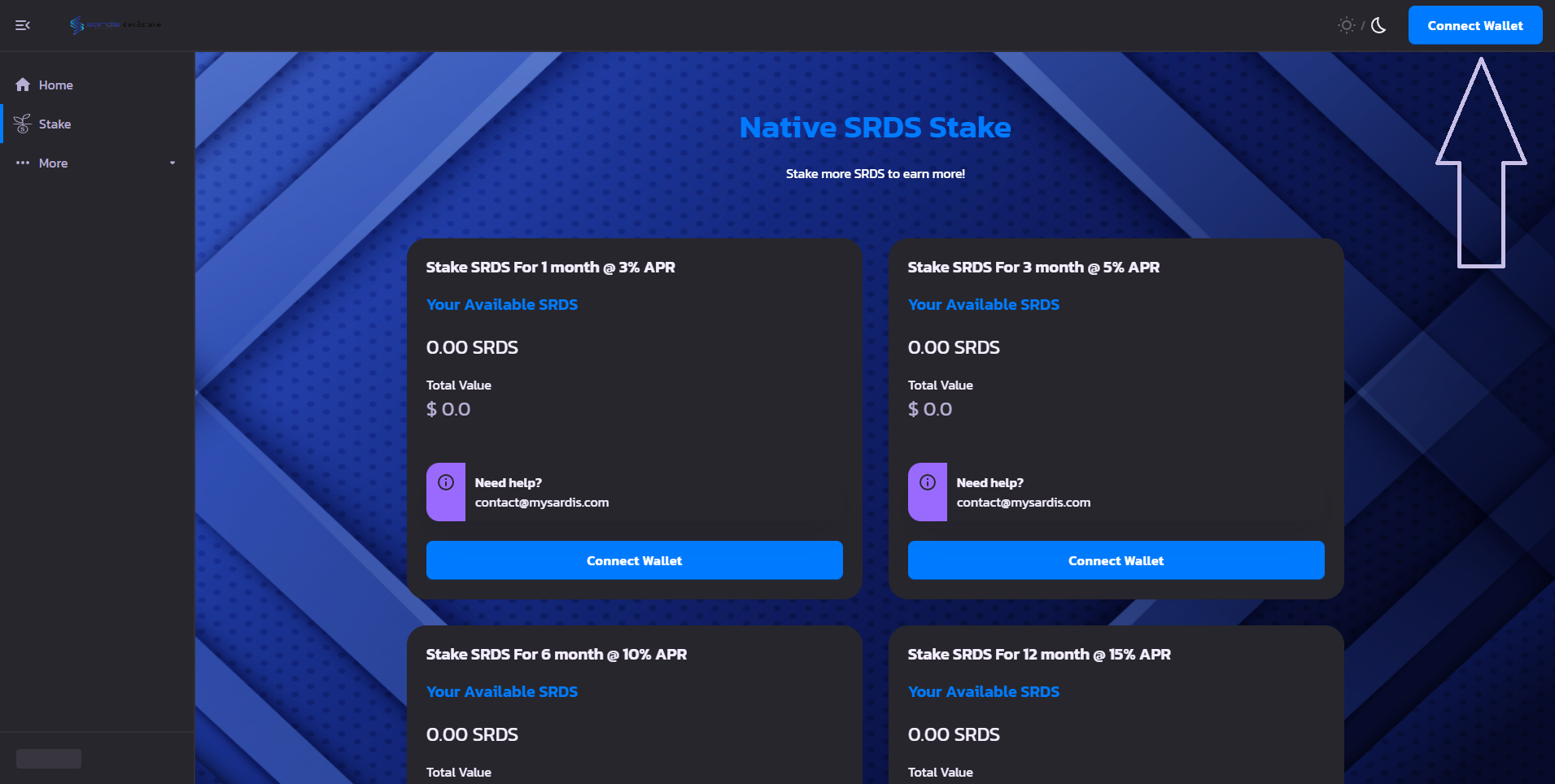 Connect your metamask wallet from the pop-up window.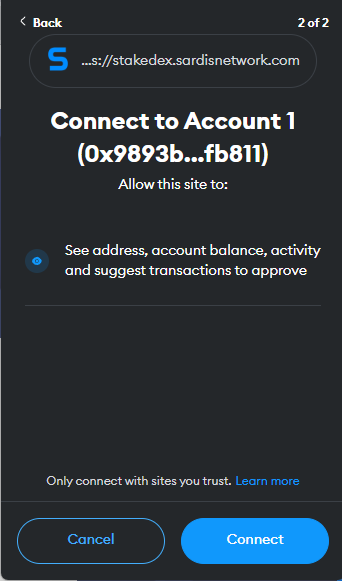 On the left side menu, navigate to the Stake tab.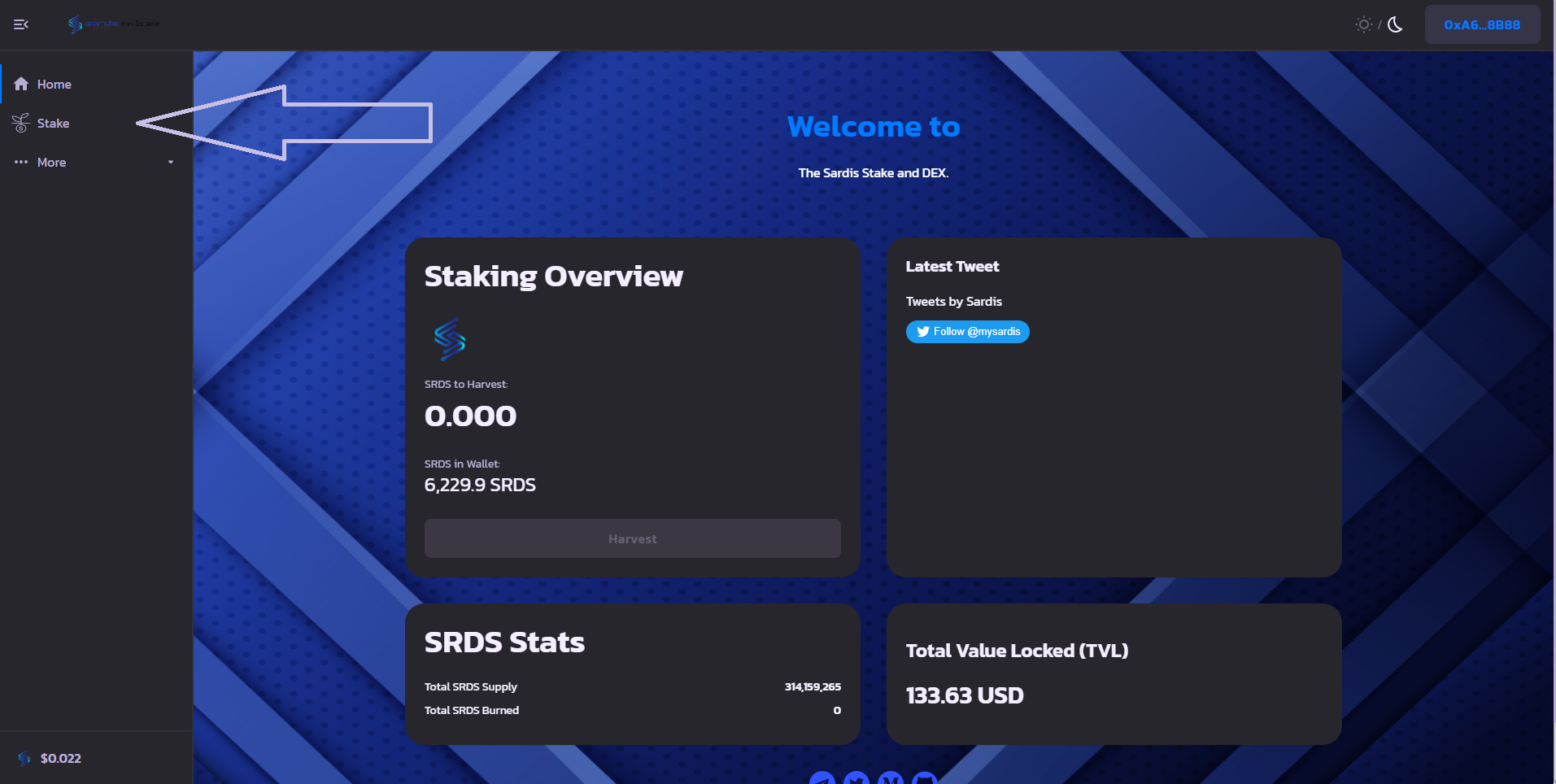 The Sardis Stake page has 4 options: 1, 3, 6, 12 month staking options. Choose your desired option and proceed.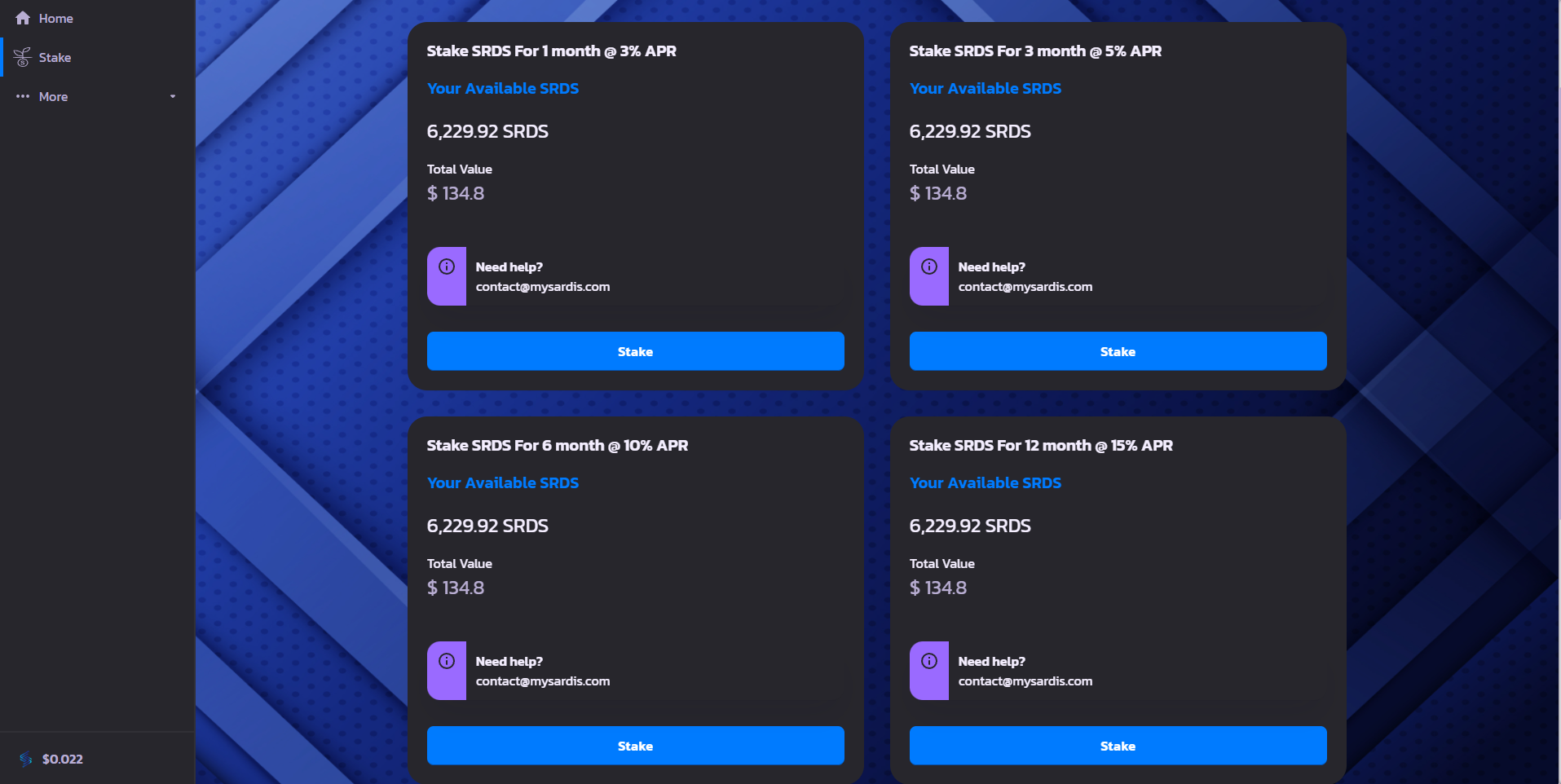 When you click the "Stake" button, a small screen will pop up where you can enter the amount of SRDS coin that you want to stake. Confirm your selection.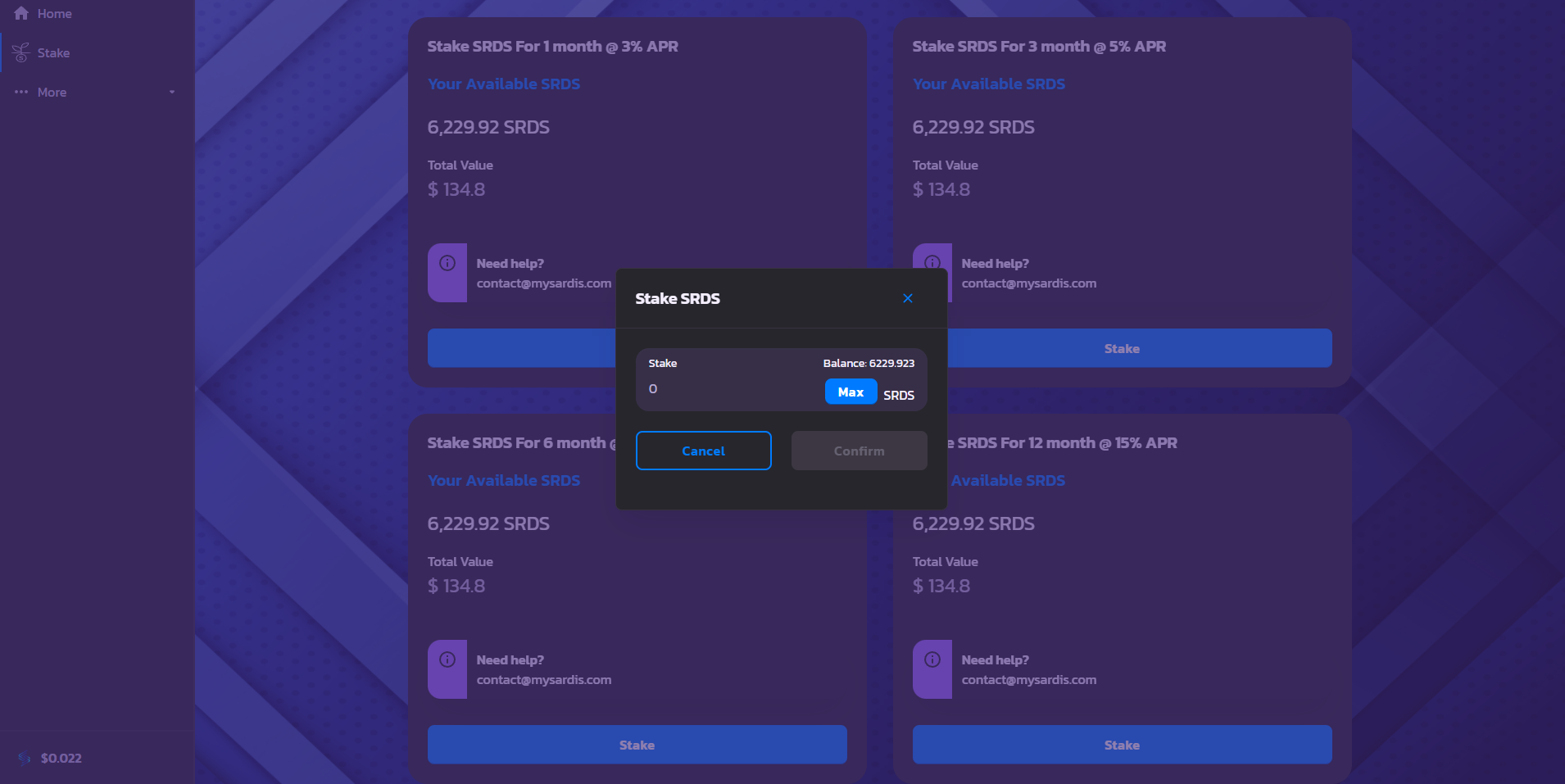 Then, on the MetaMask, you need to confirm the transaction. And voila! You've made your first stake in the Sardis Ecosystem.